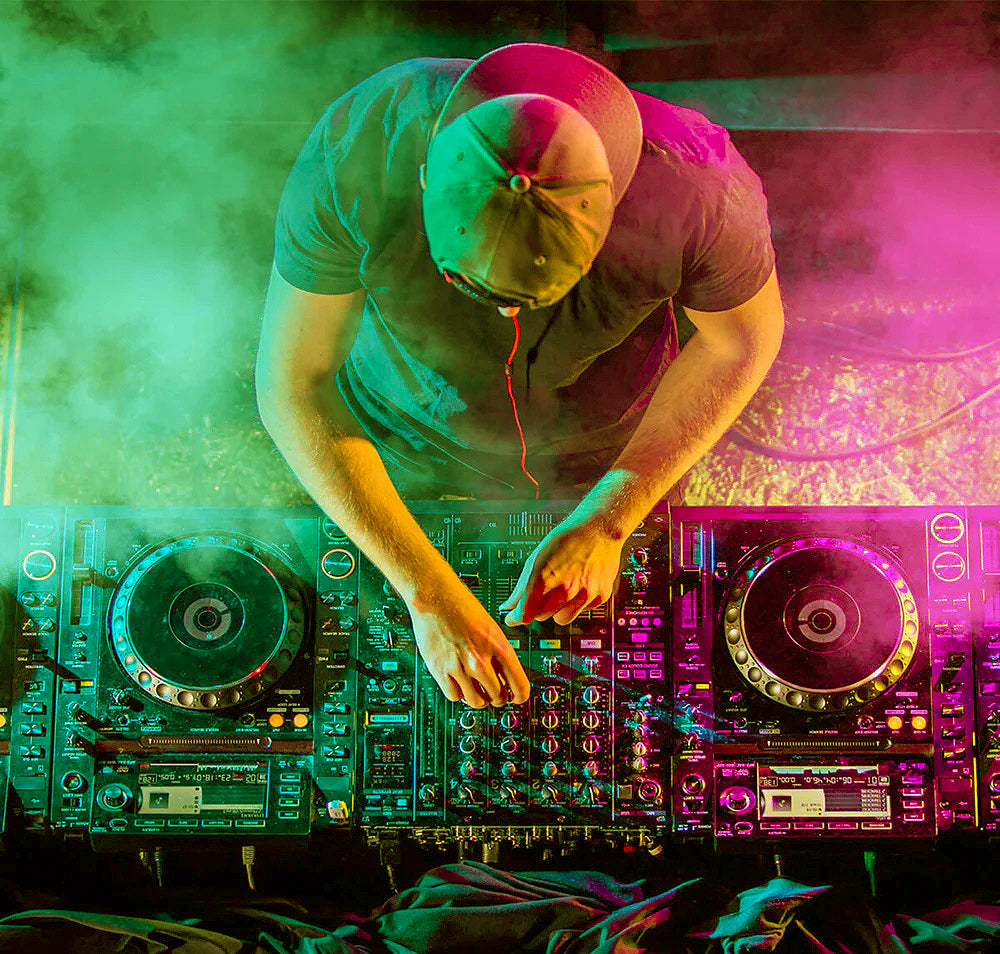 Having good lighting equipment is a must for a DJ, as it adds significant value and quality to the service. In addition, it is necessary to choose the right lighting system to customize the atmosphere that will accompany your mixes. Therefore, we present you with a detailed guide on DJ lighting to help you equip yourself with excellent lighting solutions.
What is DJ lighting?
DJ lighting usually consists of multicolored lights with specific patterns. These patterns can be strobe lights, disco balls with lights, or even simple beacons designed to keep up with the music at a party or DJ performance.
What lights should a DJ have?
Although lighting equipment has a wide variety and a lot to choose from, others have become indispensable for any disco or club. Some of these lights are: 
These small spotlights have been reinvented over time and are still present in today's lighting systems. Thanks to their construction, they are ideal for creating colorful environments on walls, ceilings, or canvases; that versatility makes them essential in any DJ lighting system.
You can see the Betopper stage lights we have available here: 
https://betopperdj.com/products/betopper-led-spider-moving-light-lm80 
Moving headlights are essential in any DJ lighting system; their movement and flexibility of effects have created them a necessary part of any event. For that reason, you can find this kind of light in all sizes, powers, and colors.
Check out the Betopper DJ Lights moving heads available for you:
https://betopperdj.com/products/betopper-led-moving-head-spotlight-lm20sw 
The laser features a pretty visual complement on the dance floors; the beam of sunshine that reflects breaks the stage in several colors and movements. This equipment has been part of the lighting systems and shows of various event venues for years. Undoubtedly the laser can never miss in an event.
You can see the laser light that we have available in Betopper:
https://betopperdj.com/products/betopper-lasers-light-b1000  
How to set up a DJ lighting system?
You can install the DJ lights by screwing them to the wall or hanging them. They can also be ceiling or floor mounted, depending on your preference. In addition, most lights come with a handle with a specifically designed area to mount them. Thus, it solely takes a couple of minutes to put in them for your eventfully.
 How do I connect DMX lighting?
To start using DMX lighting, you first need to give the device you want to connect a device from your controller to a DMX compatible product to set a start address. Then, the channel sent by the controller can set this start address. 
For example, if you have a 16 channel DMX controller, device 1 contains 16 channels to send control messages, the start address of Fixture 1 is DMX Channel 1. On the other hand, Device 2 includes the second bank of 16 channels; in this case, the start address would be DMX Channel 17. Consistent with this, Fixture 3 would have DMX channel 33 as its DMX start address, and so on.  
What kind of lights do DJs use?
Generally, there are four sorts of DJ lights. These embrace party lights, retro lights, projectors, and lasers. Here are the details of each kind of light:
Party lights:Any disco lights that are designed for home use fall into this category. These lights are also known as disco party lights and DJ party lights.
Retro lights:These are the main types of disco lighting that include rotating mirror balls. They have 16-amp multicolored lights.
Projectors:This DJ lighting has two main elements - a projection-style halogen lamp and a mirror. The halogen lamp shines on the mirror through a sheet of filtering gel to create colors. Projector-style DJ lighting also uses a balloon wheel to create shapes. 
Lasers:are a new type of DJ light made with laser diodes and several mirrors that project multiple beams and impressive colors of light on the spot.
What is the best DJ laser?
The laser is a perfect lighting device for the performer on the move, so choosing a quality one is essential. That's why we recommend our Betopper laser light show, which is compact, lightweight, easy to use, and therefore the ideal lighting equipment for mobile DJs, entertainers, and musicians. 
Our DJ lasers can project various colored lights, with effects that impress audiences at nightclubs, private parties, bars, and more.
Conclusion
Suppose you are a DJ looking for quality lights to liven up the show. In that case, we hope this information gives you a starting point for purchasing your professional lighting equipment. Then, visit our store and discover the variety of Betopper DJ Lights we have available, tailored to your needs and wow the crowd. 
---